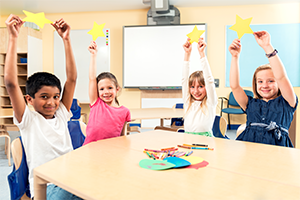 Enough! Preventing Child Sexual Abuse in My School
"Enough!" is the most comprehensive training course available in the U.S. developed exclusively to meet the specific needs of public and private schools, and to address the challenges they face in preventing child sexual abuse and educator sexual misconduct. The one-hour, online course with available closed captions provides learners with an engaging and interactive experience.
Enough! was selected by the U.S. Department of Justice in 2019 for inclusion in its crimesolutions.gov national repository of effective, quality programs and practices in the fields of criminal justice, juvenile justice, and crime victim prevention.
How to Purchase
School administrators and leaders may preview the course for free with no obligation. Licenses are available for system-wide implementation of the course by public schools or districts, private schools, state departments of education, and schools of education.
To request a free preview for your leadership team, discuss annual or multi-year licensing, or to explore funding opportunities to support implementation of the training program for your school, please contact info@masskids.org or call (617) 742-8555.
Interested individuals can also take the course. Contact us at info@masskids.org and we will send you a special access link. Your $20 registration fee can be paid by check and sent to MassKids, 112 Water St., Suite 204, Boston, MA 02109.
Many thanks for all your efforts to keep children safe!
What the Research Tells Us
A randomized-controlled study of teachers in three states published in the Journal of Child Sexual Abuse (2019) has documented, at the highest levels of statistical significance:
Increased learner knowledge about child sexual abuse and its prevention;
Ability to identify boundary-violating behaviors that if left unchecked could lead to sexual misconduct or abuse; and
Confidence and willingness to report suspected or disclosed cases.
98.4% of learners indicated they would recommend the course to their colleagues.
Who Should Take the Course?
Public and private school teachers, paraprofessionals, administrators, counselors, school resource officers, coaches, office personnel, transportation providers, food service workers, security guards, and custodians, as well as parents, school volunteers, and Parent Teacher Organization and School Committee members will all benefit from this course.
More About Enough!
While the problem of child sexual abuse is disturbing, the course is positive and hopeful in tone and approach. It makes clear that schools that build their knowledge and strengthen their practices in this important area of child protection can enhance their leadership and reputation in the community as safe havens where children can learn, thrive, and succeed.

"Enough!" avoids the usual talking heads and slide-reading narrators and instead conveys information through two teacher avatars based on real teachers. Two scenarios of child sexual abuse are highlighted to address the fears and biases that school personnel report have hindered them from identifying, reporting and preventing child sexual abuse.
The course highlights the latest neuroscience research on the impact of child sexual abuse on cognitive learning, memory deficits, social/emotional learning, academic failure, and long-term physical and mental health.
To reinforce knowledge gains and support ongoing learning, a robust set of downloadable prevention resources, including booklets, handouts, videos, etc. are available. A Policy Guide is also included that can serve as the basis for later follow-up discussions among school personnel and administrators.
Evaluation
Three knowledge checks are included within the course. A pre- and post-test are provided to measure knowledge gains. An optional post-viewing evaluation measures learner satisfaction, as well as self-reported changes in ability to identify and respond to suspected cases or student disclosures. A certificate of proficiency is available for download upon completion of the course. Data reports are available for school administrators to track overall proficiency scores and completion levels.

Course Developers
Jetta Bernier, MA is a child abuse prevention advocate with over 30 years of experience in program development, training, community organizing, and policy advocacy. She is executive director of MassKids, a 60-year old private, statewide child advocacy organization that serves as the state chapter of Prevent Child Abuse America.
Pamela Jay Shime, JD, MA is a graduate of Stanford University's School of Education where she received her Masters in Learning, Design, and Technology. Pam helped incorporate evidence-based and cutting-edge learning theory and e-learning design principles into the Enough! online course. Currently, she is a Research Associate at Stanford Psychiatry's Early Life Stress Lab where she researches the neurological and epigenetic effects of childhood trauma and the ways in which those effects inhibit capacity to learn and healthy development.

For more information about previewing the course, licensing, and available discounted rates, please contact info@masskids.org.
Social Work Continuing Education
This program has been approved for 1.0 Social Work Continuing Education hours for re-licensure, in accordance with 258 CMR. NASW-MA Chapter CE Approving Program, Authorization Number D81438. Please email lindsay@masskids.org once you have completed the evaluation for a certificate including all required information for the social work CE hour.
What School Personnel Are Saying About Enough!
Several thousand school personnel including teachers, administrators, counselors, coaches, bus drivers, security staff, food service staff, etc. have completed the Enough! course as of November 2019. Here are some of their comments.
Compelling presentation, highly organized, visually engaging.
The training is user friendly and perfect for school staff because it gives actual statistics instead of horror stories and it presents real life situations and how they should be appropriately handled.
I am glad to have more information about this topic and feel empowered to act as an advocate to prevent or report the sexual abuse of my students.
I think this type of training should be seen by EVERYONE who will be working with children.
Excellent! I love the focus on fears and biases/concerns of school personnel. They are real and must be addressed so that school personnel participate in prevention, reporting and helping children to heal if abuse has already occurred.
I like that it stresses PREVENTION, not reaction.
It was very thorough and provided great advice for how to talk to a student that confides in you.
I liked that specific scenarios with different warning signs and situations were given to educate school personnel about sexual abuse.
The course provided factual information about a topic that doesn't receive adequate attention.
Statistics helped to make the reality of the situation so intense and dire...Something to be taken seriously.
Excellent training! Really good specific examples, great narration! Really sobering statistics. I really appreciated the discussion about teacher fears and biases. I recently had a situation of physical abuse I needed to report and experienced at least half of those fears, biases and hesitations. This course made it much clearer to me what is reportable…. I fall into all of the categories you discuss at the beginning: survivor, aunt to survivors, and sister of a perpetrator. I considered myself pretty well informed, but this was really eye-opening. And I've heard other teachers saying the same. Thank you again.
Informative and gives direction to people who may not have know how to react.
Succinct and clear information conveyed and easy format for learning.
The real-life situations allow for deeper thought about possible responses.
Made you think about the biases and fears that prevent a lot of people from taking the reporting step.
I learned a great deal about the signs of abuse, boundary-breaking behaviors, and my responsibilities as a mandated reporter.
I liked that it dove deeper into the topic of sexual abuse and provided real life situations that we may actually see happen in a school setting.
| Access Date | Quiz Result | Score | Actions |
| --- | --- | --- | --- |